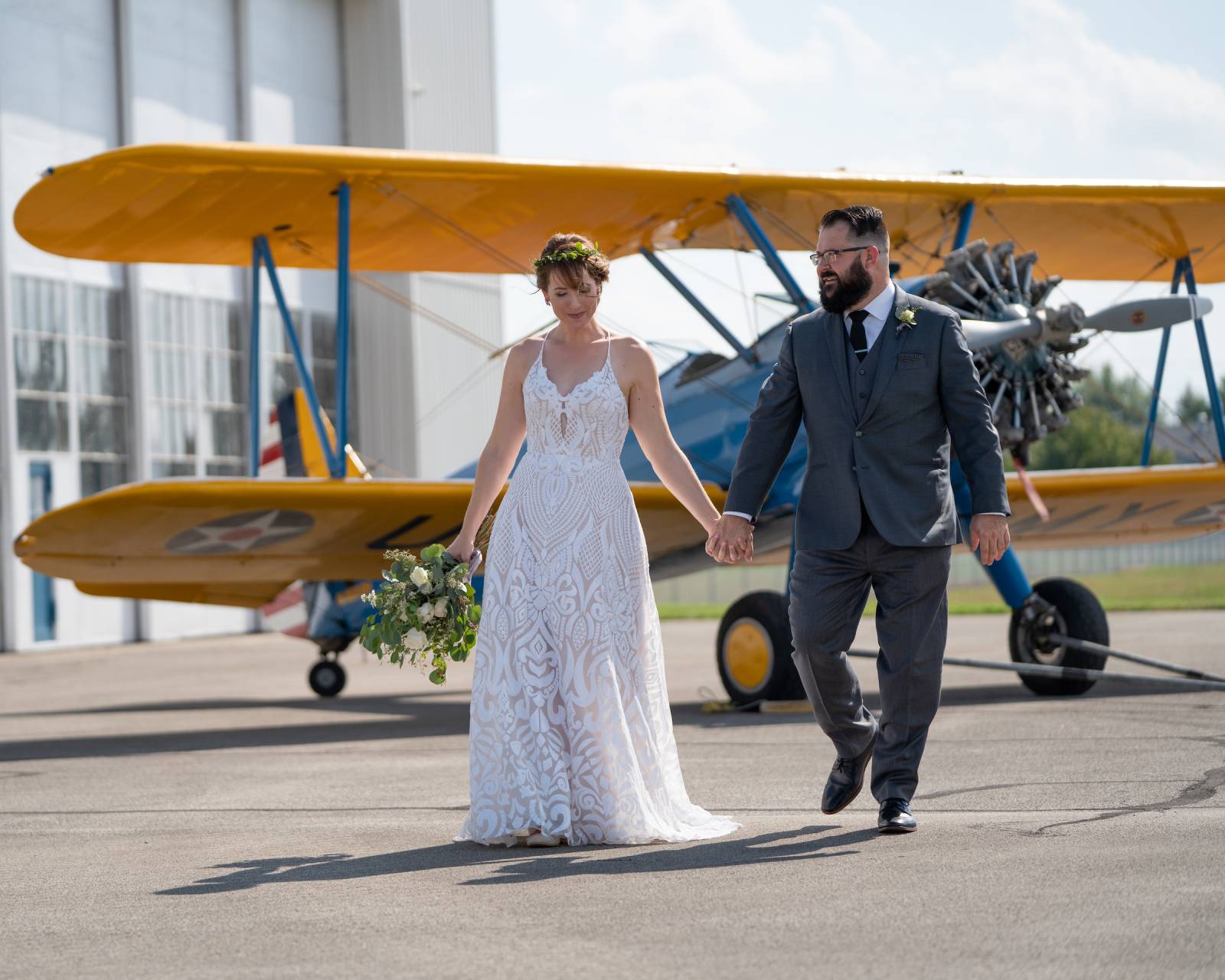 After meeting in 2015 through Ian's sister, this wedding photographer and Air Force Retiree/Veteran got engaged surrounded by Lynda's family in the Ozarks. "We were all hanging out by the pool when he came out with a giant diamond ring floaty and asked, 'Is this the diamond ring you've been asking for?'" After a fun-loving laugh, Ian got down on one knee and proposed to Lynda with a custom made ring from Max's Jewelry. This ring was made even more special as it contained precious heirloom jewels from Ian's family!
After retiring from the Air Force, Ian still has a love of aviation. The couple often eat at Blackerby's Hangar 5 Restaurant, a restaurant in the Columbus Municipal Airport. Lynda got in touch with Brian, the contact at the airport, to arrange a surprise First Look on the tarmac. Little did she know that Brian had arranged for a Vintage Stearman Biplane to be pulled out for the First Look photos, A very special touch before walking down the aisle!
Libations and Celebrations
After a sweet ceremony, the couple and their 150 guests continued reception celebrations at Upland Columbus Pump House. Donuts, dancing and drinks, oh my! Being lovers of craft beer, both Lynda and Ian sipped on Campside Pale Ale throughout the evening surrounded by elegant homegrown pumpkins of white and green. Like a fluke summer night in the midst of fall time. (Which is exactly what Lynda wanted!)
"My best advice is, enjoy every moment, even of the planning part! Guest[s} will not miss what is not there. Also if you aren't hiring a wedding planner, at least hire a day of coordinator. Worth every penny!"